Brief Introduction of PSA Oxygen Generator System
PSA (Pressure Swing Adsorption) technology, which is deffirent from traditional cryogenic technology, is going to more and more popular used for air separating. Each gas has a specific adsorption rate when they pass through the vessel filled with molecular sieves (Zeolite molecular sieves) under a swing pressure. Most of Nitrogen molecules are trapped by ZMS, and other gases(Oxygen gas) are collected out for production gas.
However, the molecular sieves might be saturated with trapped nitrogen molecules, so it need to depressurized to regenerate for next cycle. In that case, we always design a twin-vessel structure to achieve a continuous production of oxygen gas, so that the lowest energy consumption and best efficiency can be realized. Contrast to the traditional cryogenic technology, the PSA technology has more advantages: more economical, moreconvenient, more stable.
KL Oxygen Generation System include one set of air compressor, one air dryer, one set of air filters, one Oxygen generator, one air buffer tank, one oxygen buffer tank, one set of oxygen compressor, one set of cylinder filling station, related control system and so on.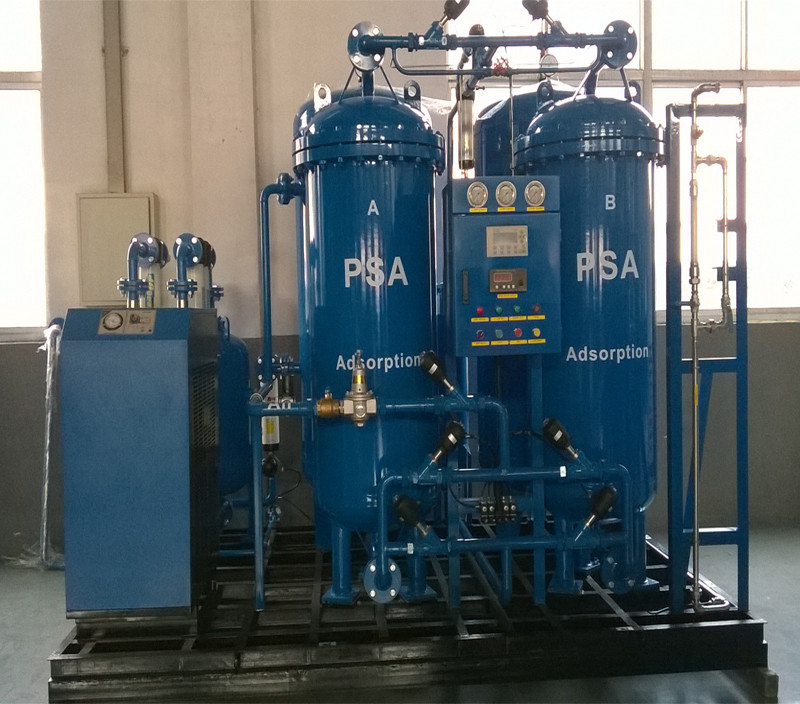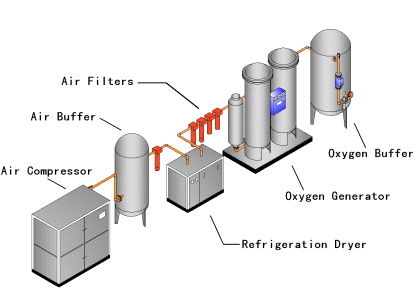 Features
High Reliability
Proven PSA technology, simple engineering design, few moving parts and international   standardized   manufacturing   techniques   ensure   minimal   maintenance   and maximum reliability.
Low Running Cost
Patented technology reduces air consumption, saves electric power.
Simple Operation
Unattended operation controlled by PLC automatically.
Easy Installation
Skid mounted for easy installation and transportation.
Longer lifetime
Exclusive  bed  containment  system  extends  Zeolite  Molecular  Sieve (ZMS) bed life to more than 10 years.
Minimal Maintenance
The generator has highly-reliable valves and no other moving parts. Filter elements are easily replaced.
Safety and Quality
Possible dust, odor and bacteria will be removed by additional oxygen purification system. (Optional. Oxygen purification system is recommended if the oxygen gas is used for medical-use.)
Technical parameters
3.1 Output:1-600Nm3/h
3.2 Purity:91~96%
3.3 Pressure:3-6bar
---